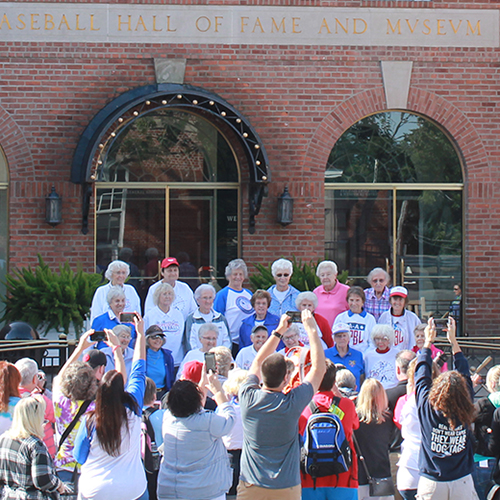 2019 AAGPBL Reunion *The 2020 and 2021 Reunions are canceled due to Covid-19
Players, a bat girl, family, and fans of all generations gathered for the 30th reunion of the All American Girls Professional Baseball League in Syracuse, NY from September 18 – 22, 2019.
The reunion included a bus trip to the National Baseball Hall of Fame and Museum in Cooperstown, NY where players shared their experiences with school students, toured the Diamond Dreams: Women in Baseball exhibit and viewed items from the league in the archives. Read more about their visit on the Hall of Fame's website.
The reunion culminated with a banquet featuring key note speaker Jean Afterman, Senior Vice President and Assistant General Manager of the New York Yankees. The evening also featured many presentations and awards, the highlight of which was the unveiling of a sculpture honoring Pennny Marshall, who produced and directed A League of Their Own, which illuminated the history of the league to the U.S. and the world beginning in 1992. Penny's daughter Tracy Reiner and Sculptor Bridgette Mongeon assisted with the unveiling.
Become a member to join the fun
Become a Associate or Student member and you will receive all the information about next year's reunion.
More about Reunions
The first national AAGPBL Reunion was held in 1982 as a result of players and fans reconnecting through mailings and local mini-reunions. Former player June Peppas, who co-owned a printing company, created a mailing list of players through the publication of a newsletter designed to locate players and culminate in a reunion. With the help and energy of South Bend bat girl Ruth Davis, that first national reunion was held in Chicago during the summer of 1982. From the very beginning, the players welcomed fans and everyone who had a role in the league to their events. That tradition, including public autograph sessions and media coverage, continues today. Associate members and volunteers continue to make each reunion a memorable experience through planning and hard work.

AAGPBL National Reunions
1982 Chicago, IL
1986 Fort Wayne, IN
1987 Fort Wayne, IN
1988 Scottsdale, AZ
1988 Cooperstown, NY
1991 Clearwater, FL
1993 South Bend, IN
1995 Indian Wells, CA
1997 Myrtle Beach, SC
1998 Palm Springs, CA
2000 Milwaukee, WI
2001 Grand Rapids, MI
2002 South Bend, IN
2003 Syracuse, NY
2004 Kalamazoo, MI
2005 Palm Springs, CA
2006 Houston, TX
2007 Rockford, IL
2008 Fort Lauderdale, FL
2009 Milwaukee, WI
2010 Detroit, MI
2011 San Diego, CA
2012 Syracuse, NY
2013 Oak Brook, IL
2014 Albuquerque, NM
2015 South Bend, IN
2016 Sarasota, FL
2017 Cincinnati, OH
2018 Kansas City, MO
2019 Syracuse, NY *2020/2021 (Oak Brook)Chicago, IL
*Due to the uncertainties regarding Covid-19, travel and meeting concerns, the AAGPBL Players Association board has decided to cancel the 2020 (Oak Brook) Chicago, IL Reunion AND 2021 (Oak Brook) Chicago, IL Reunion. The board will decide on a rescheduled date. Be safe!
---