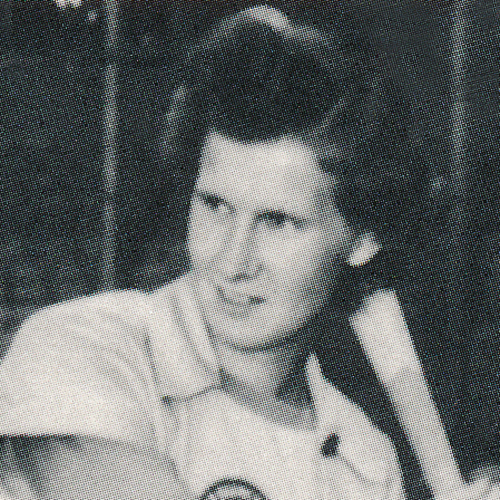 CONNIE WISNIEWSKI: PITCHER, OUTFIELDER
The first AAGBBL player to be honored as Player of the Year was Connie Wisniewski. She earned the award on the basis of her stellar 1945 pitching performance for the Grand Rapids Chicks. Wisniewski joined the league at the age of 22 as a member of the Milwaukee Chicks.
The Chicks were relocated to Grand Rapids at the beginning of the 1945 season. At 5'10" and 147 pounds, Wisniewski was one of the taller, stronger players in the league. When she joined the AAGBBL, she had been pitching for only two years, though she had played first base since she was eleven years old.[1] It didn't take her long to develop into a premiere softball pitcher in the AAGBBL. In 1944 she pitched in 36 games, held a 23-10 win-loss record and compiled an Earned Run Average (ERA) of 2.23. Her best pitching years, however, were 1945 and 1946. In 1945, Wisniewski earned the epithet of "Iron-Woman Wisniewski" for facing more batters (1,367), pitching more innings (391), and working more games (46) than any other pitcher in the league. In addition to all of this, her 1945 ERA was a fantastic 0.81.[2] She even held the distinction of pitching and winning a doubleheader in Racine during the 1945 season.[3] Wisniewski's 1946 statistics were equally impressive. She appeared in 48 games (nearly half the season's total), compiled a 33-9 win-loss record, and established an ERA of 0.96.[4]
Wisniewski's pitching fortunes began to change in 1947 when sidearm pitching became the predominant style. She appeared in 32 games in 1947 and her win-loss record dropped to 16-14 with a 2.15 ERA. These statistics placed her 19th among league pitchers, suggesting that sidearm pitching negatively affected her pitching effectiveness.[5] In 1948, the pitching distance was extended to 50 feet, and overhand pitching was inaugurated. For all practical purposes, this change marked the end of Wisniewski's pitching career in the AAGBBL. In 1948 she pitched only eight games and her win-loss record was a poor 3-4 with an ERA of 2.47.[6] But Wisniewski's versatility was reflected in her ability to become an All-Star outfielder when her pitching days were over. In 1948 she appeared in 118 games as an outfielder and batted .289, third among all league players.[7] Wisniewski's performance in the outfield earned her election to the AAGBBL All-Star Team in 1948. Every year she played in the league thereafter, including 1949, 1951, and 1952, she was one of the league's All-Star outfielders.[8]
At the end of the 1949 season, Wisniewski jumped to the Chicago National Girls Baseball League where she reportedly commanded a salary of $250 per week ($150 more than the AAGBBL paid).[9] The Chicago league, which still employed softball rules, including underhand pitching, hoped to employ her as a pitcher.[10] Despite the financial rewards of the Chicago league, Connie Wisniewski found the social atmosphere of the AAGBBL more to her liking and she returned to the Grand Rapids Chicks in 1951.[11] She either retired at the end of the 1952 season or returned to the Chicago League because her name did not appear in league statistics for 1953 and 1954.[12]
---