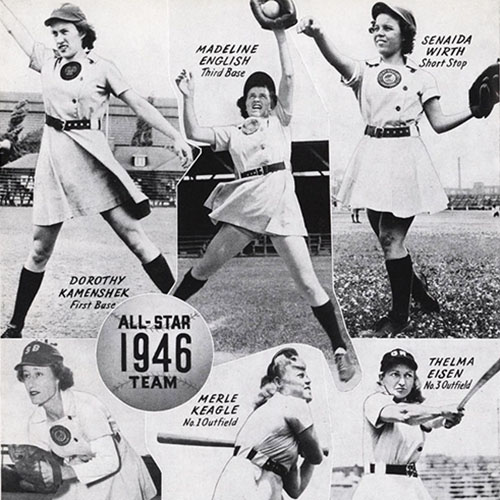 1946 All-Stars
It should be borne in mind by the fan that the All-Star players presented in these pages have been selected on the basis of their achievements and performances in the 1946 season only.
In the voting of the managers, as many as fifty-three different players received recognition, which gives an indication of the diversified difference of opinion, even among managers, when it comes to judging a player's merits and worth. However, all of those selected on this 1946 All-Star aggregation gained a clear-cut margin in total points to leave no question as to their qualifications to represent the best in ability among All-American girls of 1946.Perhaps every fan his or her own idea as to what an all-star team should be but we do not think that many can argue that the players named herein would give as good an account of themselves as any other group of girl ball players in the world.
Pitching Staff
A pitching staff which comprises Connie Wisniewski, the leader in won and lost percentage for the third year in a row, and Joanne Winter, who shared a new record for games won in one season with Connie at 33 games, in addition to breaking or tying several other league records in 1946, might be sufficient. Add to this the extremely capable Carolyn Morris, the league's ace no-hit pitcher, and Anna May Hutchison, who set several league records and pitched more low hit games than any pitcher in the league in 1946. You have the cream of the pitching crop on the basis of last season's play.
Infield
When it comes to the infield, you need to look no further than Dottie Kamenshek at first base, where she reigned supreme in all-around play, being the
league batting champion of 1946 and setting a new all-time record for total hits. No one can dispute the right of Sophie Kurys to second base, where she won player of the Year honors on the basis of her stellar 1946 performance in which she set new all-time records for stolen bases, for bases on balls, for runs scored, for runs in one game and for fielding percentage at second base. At shortstop, where Senaida (Shoo Shoo) Wirth won the distinction of being the only rookie to make the all-star grade. At third base, where four-year veteran Maddy English got the nod, the competition was much tighter. But Wirth and English took laurels on the basis of their all-round play, fielding, throwing, defensive fire and offensive ability.
Outfield
Of the outfield births, the candidates were legion. Merle (Pat) Keagle who led all the league's outfielders in hitting and who ranked extremely high in the extra base and runs-batted-in department and could not be denied a place on the basis of her all-round effective and aggressive play. Elizabeth (Lib) Mahon was another who sparkled in 1946. In addition to batting in the top brackets, Lib set a new all-time record for runs-batted-in, sure-fire evidence of hitting in the clutch and she led the entire league in the important Total Advanced Bases column. The supreme test of a player's ability to hit when it counts. Third spot in the outfield went to deserving Tiby Eisen, who is one of the speed merchants of the league, a ball hawk in the field, a much better than average hitter and on the basis of her 1946 play. Tiby virtually carried first year Peoria Red Wings on her capable shoulders and deserved an all-star post.
Catchers
The catching assignment was a race between Mary (Bonnie) Baker of the Blue Sox and Ruth Lessing of the Chicks. Baker enjoyed her best of four seasons with the stick and won the nod on the basis of her fine batting. Lessing shone as a great receiver and holds every all-time record for catchers.
Team Picks
The championship Racine Belles took four all-star selections with pitchers Winter and Hutchison, second baseman Kurys and third baseman English. South Bend Blue Sox came through with three all-stars in the persons of catcher Baker, shortstop Wirth and outfielder Mahon. Grand Rapids Chicks also showed with three stars in pitcher Connie Wisinewski, outfielder Keagle and catcher Lessing. Rockford Peaches made two highly important contributions in the remaining post with outfielder Eisen and pitcher Morris.
And so, hail to the All-Stars of 1946. We are privileged to do fitting honor to those players who have won the right to a position on this mythical team on the basis of their performance, their skill, their sportsmanship and their value to their respective teams in 1946.
---