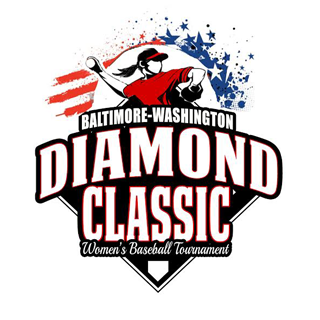 2021 Memorial Day Weekend - Diamond Classic Women's Baseball Tournament
Diamond Classic Women's Baseball Tournament coming to Purcellville, Virginia over the
2021 Memorial Day Weekend

Featuring National Baseball Hall of Fame legendary players from the All-American Girls Professional Baseball League

PURCELLVILLE, 12 May 2021 - On May 29-31, 2021, the Eastern Women's Baseball Conference(EWBC) will host its annual Diamond Classic Women's Baseball Tournament. Games will be played at Fireman's Field and Franklin Park in Purcellville, Virginia. Admission to all games is FREE and the public is encouraged to attend.

This all-women's baseball tournament will feature 8 teams and over 100 women baseball players from throughout the U.S. As the nation's longest running women's baseball tournament, the Diamond Classic has come to represent all that athletics should represent-- skill, dedication, sportsmanship, and fun.

Drawing upon our history, the Diamond Classic is excited to have Sister Toni Palermo, Sue Parsons Zipay, and Virginia ("Jean") Ventura Manina, former players from the All American Girls Professional Baseball League (AAGPBL) joining us. They will be sharing their experiences and signing free autographs at Fireman's Field.
Sister Toni, who hails from Forest Park, Illinois, played shortstop for the 1949 and 1950 Chicago Colleens and Springfield Sallies. Sue, a Massachusetts native, served as an infielder, outfielder, and pitcher for the 1953 and 1954 Rockford Peaches, one of the AAGPBL teams featured in the film, A League of Their Own. Jean is also a former Peach, playing infield and first base for the team in 1951 and 1953.
Cubs owner, Philip Wrigley, created the league in 1943 to keep baseball alive in midwestern cities that lost their men's minor league teams due to the manpower demands of World War II. From 1943 through 1954, the League provided over 650 young women the opportunity to play professional baseball. To them, being paid to play baseball, a game they loved, exceeded their wildest dreams! Sister Toni and Sue currently serve as Board Members for the AAGPBL Players Association.
In addition, Sue Zipay is the founder of the new American Girls Baseball (AGB) organization. Sue's purpose in establishing the AGB is to provide more girls all over the U.S. the opportunity to play baseball in leagues of their own. Sue is currently launching an initiative to help raise the profile of women's baseball with the goal of making a return of women's professional baseball a reality for the thousands of dedicated female baseball players across the country.

The Diamond Classic games begin on Saturday, May 29th, and pool play continues on Sunday, May 30th. The top teams will advance to Monday's Championship game at 9:00 am at Fireman's Field. Additional medal round games will be played at Franklin Park on Monday at 9:00 a.m. A complete schedule can be found on the EWBC website.
This year's Diamond Classic will include a number of current and alumni members of USA Baseball's Women's National Team. Since 2004 USA Baseball has included a women's baseball program, selecting a national team to represent the country in international play. Team USA has fared very well on the international women's baseball stage, taking home the gold medal in the 2019 Pan Am Games, as well as medaling in 6 of 7 of the Women's Baseball World Cup international tournaments held, including 2 gold medal showings.
Hope to see you at the ballpark!

If you would like information about the Diamond Classic or the EWBC, please contact
Tournament Director Bonnie Hoffman at: [email protected]


ABOUT EASTERN WOMEN'S BASEBALL CONFERENCE
For more than 25 years the EWBC has provided opportunities for women and girls to play baseball at the local, regional, national, and international levels. With teams in Northern Virginia and Maryland, the EWBC offers a chance for women to play America's pastime. EWBC players come from all walks of life and all levels of experience, from those playing the sport for the first time to women who have represented their country as members of USA Baseball's National Team.

ABOUT ALL-AMERICAN GIRLS PROFESSIONAL BASEBALL LEAGUE The AAGPBL Players Association, Inc. is an active, nonprofit organization established for the following purposes: to research, collect, document, preserve and promote the history of the All-American Girls Professional Baseball League: to provide opportunities for social interaction of the membership; to disseminate historical, educational, and factual information regarding the League and its personnel; and, to promote and support modern women's baseball. "We do not stop playing because we grow old, but we grow old because we stop playing."
---